They are Ion and Maria, a couple created based on representative data from Magenta Consulting's research.
Ion and Maria are a typical family. Married, have a baby. Ion works. Maria also. She doesn't earn much, but Maria is a housekeeper.  She pays attention to what she buys and saves. Maria keeps looking after her family and work. Which is why, after the first child, she decided to linger. She went to the doctor for a coil fitting. Until better times will come and the little baby will be a bit more grown up.
Their neighbors, Ana and Andrei have been together for several years, but have not decided yet to get married. Ana did faculty and master. She likes to stay informed about everything: the situation in the country, news from abroad, self-developing, traveling, including shopping. She reads, compares, and consults multiple sources. Ana has ideals; she wants to know the world, to make a career, to have fun and is not ready for a child. For IUD is still early. Therefore, together with Andrei she protects herself using condoms.
With or without children in the house? Yes and no. Shows Magenta Consulting's data about contraception, confirmed by those of the National Bureau of Statistics regarding the birth rate.
Half the families from Moldova choose to have only one child. Thus, in 2011, 55.6% of couples had only one child, 34.2% - two and only 10%, of which 74% live in the country - three or more children. The reason behind couples being limited to having small families is the economic situation, the desire to achieve a level of financial stability that would be enough to ensure a life that provides with all the necessary.
Couples that are in open relationships decide to grow and educate children as well. The weight of these little ones who were born outside of the marriage in 2011 was 21.6%. However, the ratio of women who protect themselves while being in concubinage is much higher - 60%. The reason why they abstain from having children is the desire to make a career and, of course, to have a stable relationship, confirmed at the registry office.
The solution for both married couples and for those that are in concubinage is contraception.
We hold the 10th place in Europe by the rate of contraceptive use, out of 22 countries. According to the World Health Organization, in 2005, in our country 67.8% of women were using protection. In the top, the Netherlands, Albania, Belarus, Turkey, France, Russian Federation, United Kingdom, Portugal outweigh us, with Norway ranking first, registering a rate of 88.4%. Less than us are using protection Ukraine, Spain, Uzbekistan, Ireland, and Serbia.
Data obtained at the national level by Magenta Consulting, indicates a rate of 41% of respondents who use contraception.The main reason that 59% do not use any contraceptive method is not determined by, how many of us would think, religious beliefs; but by the absence of the actual need to use them (47%). Then comes the fear of hormones, the inconvenience, medical contraindications and the desire to conceive a child. 2% of respondents do not know about the existence of contraception and for 4% is inconvenient to buy them. Only 5% are not using protection because that would contradict their religious beliefs. Women that are protecting the least are those with incomplete secondary education (27%) and college graduates (24%).
Figure 1.14: Reasons for not using contraception products, N = 197, %

The condom is the most popular method of contraception in our country. 48% of Magenta Consulting survey's respondents indicated exactly this method, 25% - the IUD, and 17% have placed hormonal pills as third in their preference list.
Condom is the no. 1 for all categories of respondents - those in concubinage (58%), unmarried (76%) divorced (60%) and even married (35%) - yielding positions only among women aged 30-54 years, where IUD and hormonal pills are more popular.
Figure 1.3: Methods of contraception used, N = 166,% (p. 11)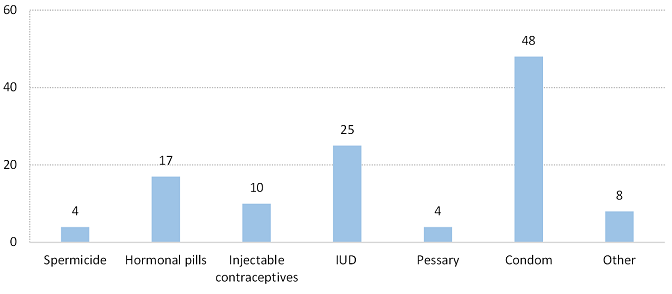 Why condoms? Because these are not pills taken regularly, they protect you from unwanted pregnancy and, apart from the fact that in some cases may cause mild discomfort; they do not cause adverse health effects. In addition, just as important, and especially for people in open relationships, they minimize the risk of infection with venereal diseases. Moreover, this is not in vain, as 12 272 people in our country in 2011 were diagnosed with trichomoniasis. Moreover, WHO report for the same year, estimated a number of 15,000 people with HIV, including undiagnosed, out of which 1,900 are new cases.

Source: National Bureau of Statistics.
IUD is a good option for families from Moldova who have children. Moldovan women avoid hormonal pills, because they are afraid to gain weight, they complain of cycle disorders and headaches, hormonal disorders, nausea, allergies and damaged nails.
Information matters. So does the age. Before purchasing contraceptives, women are informing themselves about their side effects; then about the existing contraindications, and the way they work.
Figure 1.12: Type of information considered as appropriate methods of contraception, N = 135, %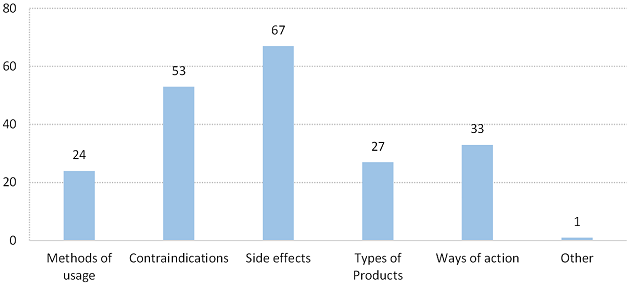 Methods of usage/Contraindications/ Side effects/ Types of Products/ Ways of action/ Other
Girls of 14-19 years (44%) want to know more about how to use contraceptives, while for those aged 20-24 contraindications are very important (62%).
Moldavian women trust specialized sources more, when choosing methods. 75% chose GYN doctor, other 25% have opted for thematic programs and 22% for internet, and another 20% for the family doctor. The least approved sources of information are friends and relatives (11%).
Eventually, children or contraception?  Every woman has to establish her priorities, personally or together with her partner. One thing is certain. Safe sex means fewer risks, and a family seems more fulfilled when it has a child.
______________________________________________________________________
This article was realized with the support of Bayer Schering Pharma AG based on Magenta Consulting research "Women's preferences regarding methods of contraception." The study was conducted on a sample of 1400 respondents, providing a margin of error of ± 2.6% with a confidence interval of 95%.
Other sources:
http://www.statistica.md/newsview.php?l=ro&id=3775&idc=168
http://gamapserver.who.int/gho/interactive_charts/mdg5/atlas.html?indicator=i1&date=Latest%20available%20since%202005
http://www.euro.who.int/__data/assets/pdf_file/0011/188759/Moldova-HIVAIDS-Country-Profile-2011-revision-2012-final.pdf