How do the days of a citizen of Moldova look like, if we translate everything into brands?
The morning begins with a cup of Lipton tea, or for those who can not open their eyes without a coffee, with a cup of Nescafe or Jacobs,  sweetened with Domnița sugar.
He/she follows the morning cleaning routine using  products from Oriflame and Avon, puts on the suit from Ionel, shoes from Zorile or Cristina  and goes to work.  Gets or dreams of getting behind the wheel of a Mercedes, Audi or BMW.  Makes sure he has ASITO insurance with him, and starts to the Lukoil- Moldova or Bemol station to refuel with gasoline. Meanwhile, is talking from a Samsung mobile phone with his friends from the Orange, Moldcell or Unite  network. They agree to go out tonight for a Chișinău beer.
During lunch break, he pays the electricity bill to Gas Union Fenosa.
He buys groceries from  Fidesco, Fourchette or Green Hils. Favorite dairy products are those from Alba or JLC.  He assures those 2 liters of water per day with Apă Căinari. Sausages - necessarily from Carmez or Pegas.
If he smokes, then let it be Doina or Temp. At occasions, he enjoys a glass of Cricova wine.
For home, he chooses building materials from Supraten, carpets from Floare - Carpet or Covoare - Ungheni.  Household goods are mostly from  LG.  And fixed Internet from Moldtelecom or Starnet.
In the case of a disease or for prophylaxis, Spitalul Clinic Republican or Centrul Mamei și Copilului are the destinations which first pop into his mind. Drugs are taken from Felicia or Farmacia Familiei.
For his children's studies, he chooses Universitatea de Stat or ASEM. For travelling and holidays abroad - Air Moldova.
The above description does not necessarily correspond to our daily customs.
These are though, the first brands that popped in the head, and were associated with different service domains and products, by the respondents of the study realized by  Magenta Consulting " Top brands present in the market of  Republic of Moldova".
The top of 50 most rated brands in Moldova are as follows:
NB: In some cases the respondent has indicated a particular brand referring to a category in which it is actually not present, as is the case of Franzeluţa mark that was nominated for the category "Bread" and in "confectionery, pastry candy" and "sugar cereal". In calculating the final result of 81%, all three individual results were summed to reflect the actual awareness of that brand.
local food ,"from abroad"-like services
We do not make exceptions to the general rule. Out of the top 50 positions, 35 are owed by marks of local origin. And this means that we like the local brands more than those from abroad. Especially when it comes to groceries. Bucuria candies occupied the top position in respondents' preferences. Among the top 5 most mentioned brands as well  were placed the bread and sweets from Franzeluţa.
Things are different when it comes to services. In such cases, we prefer companies from outside the country. 90.50% and respectively 82.17% said mobile and Internet from Orange and Moldcell. And 63.01% - Energy Services at Union Fenosa Gas. Why? Because we prefer friendly, qualitative and on time service. In addition, the credit of these companies which are from, or have experience brought from outside the country, is made of their "different" approach. They do not identify themselves as mere service providers, instead they are actively participating in the social life of the community by investing in the business, cultural and, more recently, social responsibility actions. In this way, they are more easily accepted as "of the place," and we, in our turn, are enjoying the service to our liking and the good practices to learn from, but also to apply locally.
The top of foreign brands has gained most brands as well from the category cars, filling stations, tea and coffee.
More rich, therefore,  more sophisticated
Magenta Consulting study revealed as well curious aspects related to respondents.Thus, the higher income we have, the more the range of brands we know expands. A higher financial or social status involves using several brands, more sophisticated, through which we affirm  ourselves to the others and are differentiating from the rest. The same trend is also reflected among intellectuals, especially those with higher education. More curious by nature, most of the times they tend to take well-informed decisions, especially when it comes to acquisitions.
An certain influence on the level of brand knowledge have the residency and age. Respondents from urban areas and young people aged  25-30 are more likely to retain and appoint several brands of products and services.
Graph Page 16 Coefficient of knowledge of brands by the respondents, multi-criteria analysis,   N = 600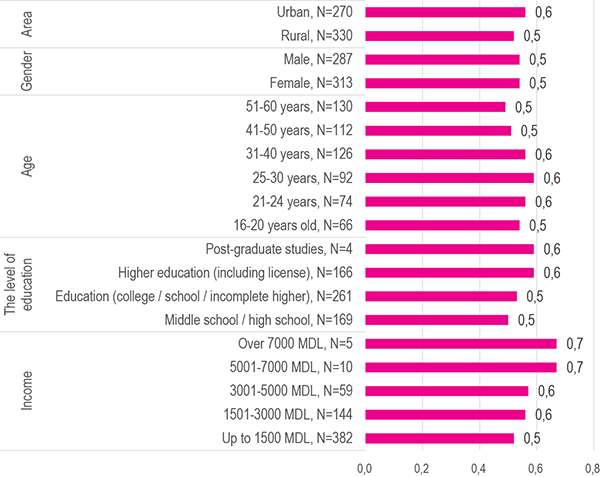 NB:  the mentioning coefficient reflects how many trademark brands were nominated from the total number of potential nominee. Thus, if the overall respondent was able to name every three brands in each of those 41 categories and named one entry in each category, the coefficient will be equal to 33%. If he mentioned 2 in each category, it will be equal to 66%, etc..
Local or international brands have made their way into our lives so naturally, that we do not notice them anymore. For instance, statistics show that from the moment we got out of bed and by the time we come back for our night  sleep, each of us uses at least 30 brands. Have you wondered how many brands you use in one day?
______________________________________________
The study "Top brands present in the market of the Republic of Moldova" was conducted based on data collected among 600 respondents aged 16-60 years across the whole territory of the country. The margin of error is estimated at ± 3.9% at a confidence interval of 95%.
The top includes 50 positions that were distributed to 55 companies, as some brands have gained equal scores and were ranked in the same place. 35 of the brands mentioned by respondents are local, and the remaining 20 are of foreign origin.