The good news is that most young people do not plan to emigrate - 58%, although the significant share of 23% are willing to go abroad for work, cannot be disregarded.
The intention to go abroad, %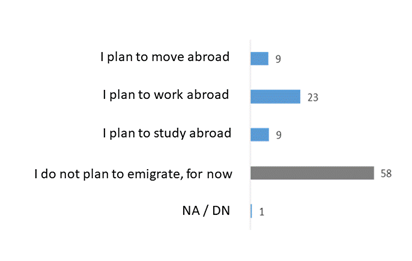 Studies abroad
First of all, the intention to go abroad is characteristic of high school graduates. More than half of these young people are city dwellers (56%), most of them speak Romanian (97%). Interestingly, the predominance of urban youth is also demonstrated by the fact that most of them drive the car a few times a week, and they shop more often than those who do not plan to go abroad.
These young people are the most optimistic about the future job - 81% plan to work according to the specialty (compared to 49-67% of the other segments). Indeed, you have to be optimistic if you are going to make the financial effort to study abroad. Their average age is 19 and a half.
"Guest who work" (translation of the term "gastarbeiter" in German)
The alarming finding is that every fourth person is planning to go abroad to work. 64% of these people are from the countryside, 16% - from Chisinau. These young people tend to save more and rarely afford to buy a new piece of clothing. The largest share of them already works (56%). It is worth noting that these young people do not stay too much without a job (among them the share of those who neither learn and nor work is lower than in the other segments - 23%, compared to 26-39%). So, they leave not so much because they do not have a job, but perhaps, because the job is not paid well enough? Every third has doubts that in the future it will work according to its specialty (compared to 14-19% in other segments). They argue this uncertainty by the fact that "there are few jobs for their specialty." Among these young people, the rate is higher of those with vocational education and technical studies (16-17%, compared to 3-14% among those segments which are planning their emigration for non-working purposes).
What's left for us?
Who remains in the country? Those who are doing well here and who think things will still work well for them in the future or those who are not doing so well? While emigration primarily attracts people who have obtained a higher education degree, most young people who do not plan to emigrate in order to work, study or live, are among those young people who currently study at the university.
It is sad that among young people who have graduated from a vocational school, the intention to emigrate is very pronounced - does the shortest study cycle attract these young people by the fact that the time investment is either small and they can emigrate anytime, or whether they hope their studies will be more appreciated abroad.
Emigration for studies can be a valuable benefit if these young people return back to the country. It is very important to understand how they might be motivated to consider engaging in Moldova later on.
HR insights:
Young people who emigrate abroad, for study purposes, represent a very valuable resource that can be recruited starting from now - by describing the opportunities for working in Moldova, in order for them to know what is worth coming back in Moldova for.
Practical traineeships could be one of the tools for motivating young people to remain in the country – there are opportunities for career growth in Moldova, opportunities for professional development. It is possible that they do not believe this at the moment, and that is why they have to see it with their own eyes.
This study was made by Magenta Consulting in partnership with METRO Cash & Carry Moldova and Efes Vitanta Moldova Brewery.
Methodology: Research results are representative at a national level among the 18-25-year-old population, with a margin of error of +/- 4.8%, at a confidence level of 95%. The study was conducted on a multistage layered probabilistic sample of 409 respondents. The data was collected between 9 - 18 July 2017 over the phone by CATI (Computer Assisted Telephone Interviewing).