If you are cold,
Tea will warm you.
If you are hot
Tea will cool you.
If you are upset,
Tea will give you strength.
If you are excited,
Tea will soothe you.
                              Gladstone                           
There are no restrictions on drinking tea. Both adults and children can drink it. Someone enjoys a cup of hot tea with five tablespoons of sugar and a slice of lemon, while others consider this a blasphemy, considering that tea should be drunk without sugar, in order to enjoy the smell and taste of tea leaves. While warming cup of tea, we rarely think about how, when or by whom this drink was introduced. The country, which most people associate tea with, is England, even though there tea was introduced as a tradition only after Chinese began to drink it, appreciating its flavor and tonic effect. To find out what kind of tea the local consumer prefers, who is probably more familiar to using the samovar, rather than the tea ceremony, Magenta Consulting Company included in its regular study a number of questions on this subject.
As the study shows, tea is consumed in 96% of the families and its brand is considered of great importance. This fact can partially be explained by the successful advertising of some brands. Nonetheless, judging by the results of the poll itself tea lovers, choosing one brand or another, most of all appreciate the taste of the drink (81%). The assortment of tea affects the purchase of 34% of the consumers. It is easy to understand this fact just by looking at the tea shelf with a big variety of tea: green, black, white, herbal tea. The great variety of flavors attracts the attention and triggers consumers into buying and trying something new. Some examples from the collection of the tea market leader - Lipton are: Forest Fruit, Mild Ceylon, Indian Spice, Passion Raspberry. The advertising of this brand is indeed hard to forget, where girls, women, grandmothers dive happily into a pool of berries, enjoying the deep flavor of the drink. And the result: 44% of those who drink tea, choose a fruity flavor.
The tea Greenfield competes with market leader, offering consumers a great variety of flavors: Golden Ceylon Classis, Kenyan Sunrise, Flying Dragon, Jasmine Dream, Japanese Gencha, White Bloom, Christmas Mystery, Lotus Breeze, Lemon Spark and many others. Why all this effort? Maybe in this way, a cup of tea that needs just hot water turns into a source of enjoyment and pleasure. This great variety of flavors can be considered as an additional incentive that triggers the buying behavior.
Fig. 1: Tea brands, according to the preference of the local consumers, N = 996,%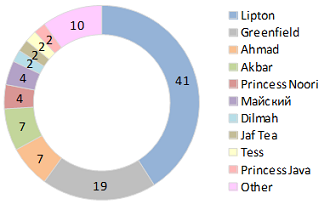 Over the past few years on the radio, in many newspapers, glossy magazines and television broadcasts one could hear, see and read about the benefits of green tea. Part of the consumers has made an effort to change from traditional black tea to green tea, eventually getting used to its specific taste. However, it is difficult to judge which experts are right: those who argue that green tea tones and refreshes  (to a greater extent than black tea), and also leads to weight loss, or those who believe that these properties have been to a certain extent exaggerated in order to create demand in countries where drinking green tea is unusual. However, the fact is that 38% of consumers drink green tea. However, the traditional black tea by no means disappeared: it is consumed by 54% of consumers.
Fig. 2: Demand for different kinds of tea, N = 1328, %

Tea made from chamomile, peppermint, melissa... Some time ago these could be found only in pharmacies in cardboard boxes, from which constantly tea dust was spilling. They are still sold there, but by changing the simple cardboard box with the attractive packaging, representing pictures of bright, succulent herbs, these kinds of tea have occupied their own place on the supermarkets shelves. They are now preferred by 17% of tea consumers.
Tea bags, leaf tea, in pyramids?  Anything the soul wishes. Yet the soul most definitely prefers the tea bags - 61%. It is quickly prepared and requires minimum of effort. The desire of consumers to save time while getting maximum pleasure from a simple tea bag has determined manufacturers to invent a new form. Just a bit of advertising, and tea pyramids are bought by 10% of the consumers. A known characteristic of many tea lovers is squeezing the bag, by winding it on a spoon, as well as repeating the use of one teabag. Unfortunately, the tea pyramids are not as easy to squeeze out with a spoon. Despite all efforts of the advertisers, 25% remained loyal to the traditional leaf tea.
In our country, families are not gathering for the five o'clock tea. Of course, a considerable part of the population is working at this hour, and the children, teenagers and housewives are not prone to follow the British tradition. For our tea lovers - it's a morning drink: 82% of consumers start their day with a cup of tea. Morning tea gives strength and tones up. In the evening it has an opposite effect: 41% of consumers are drinking tea for dinner, in order to relax after a day at work.
According to the information posted on the website of one of the tea producers, this drink is a natural refreshment, having an anti-inflammatory effect on the body, reduces the fragility of the blood vessels, refreshes the mind, supports oral health and speeds up the metabolism. Tea is amazingly useful, but with certain restrictions - unsweetened and without milk. Drinking tea without milk - local consumers might agree to that, but not adding sugar to the tea.. Difficult: 87% of tea consumers drink tea with sugar. In 29% of the cases consumers drink tea with honey. Tea with jam is consumed by 13%, known as a cure for colds and a simply delicious combination that brings back memories of childhood and pleasure.
To drink something or not? Tea or coffee? The answer is very specific to each individual and it depends entirely on his/her own choice. Except maybe, to a certain extent it also depends on the brand's advertising. 
Methodological note: The study Magenta National Screening is conducted on a sample of 1,400 respondents in 24 cities. Confidence level of 95%, and the margin of error + / - 2.6%.
* Words of Frosya Burlakova from the movie "Come back tomorrow"