Cigarettes are one of the changes brought about by the capitalist world after the collapse of the USSR. Just like the phone brand today, LM, Parliament, Camel also indicated the status of the one smoking them. See here an Eye Tracking survey for determining which of the cigarette brands is more eye catching for today's consumers.
Cigarettes before this…
In the United States, cigarettes marked the emancipation of women who only were allowed to smoke at home. And the revolution of lights brought them the right to light a cigarette on the street. In offices it was not only allowed, but also fashionable to smoke accompanying the process with a drink. At that time cigarettes were tranquilizers, recommended by doctors. The years passed and the law of relativity once again demonstrated its veracity. The protagonist, the cowboy from the LM advertising, died from lung cancer. And his fate was repeated by millions of smokers from around the world. Today smoking is obsolete, on the same step as sugar consumption. Both were demoted to the rank of vices and all policies are oriented towards the reduction of their use.
What do today's smokers think about cigarettes?
We neither support nor demonize smoking. The phenomenon is interesting for us mostly from a marketing point of view. That is why we have conducted an Eye Tracking survey in order to determine which of the cigarette brands are more appealing for consumers. On the same shelf we put the cigarette brands: Marlboro, LM, Parliament and Camel. And in order to study the views of the participants we used specific Eye Tracking methods offered by us:
thermal map;
the number of eye fixations;
length of fixations.
These quantitative indicators, at the request of the consumer, are usually accompanied by a questionnaire in order to establish the reasons behind the decision of the "observers". Thus, we establish certainly what attracts the eyes: chromatics, familiarity of the product or originality of the packaging.
The cigarette brand matters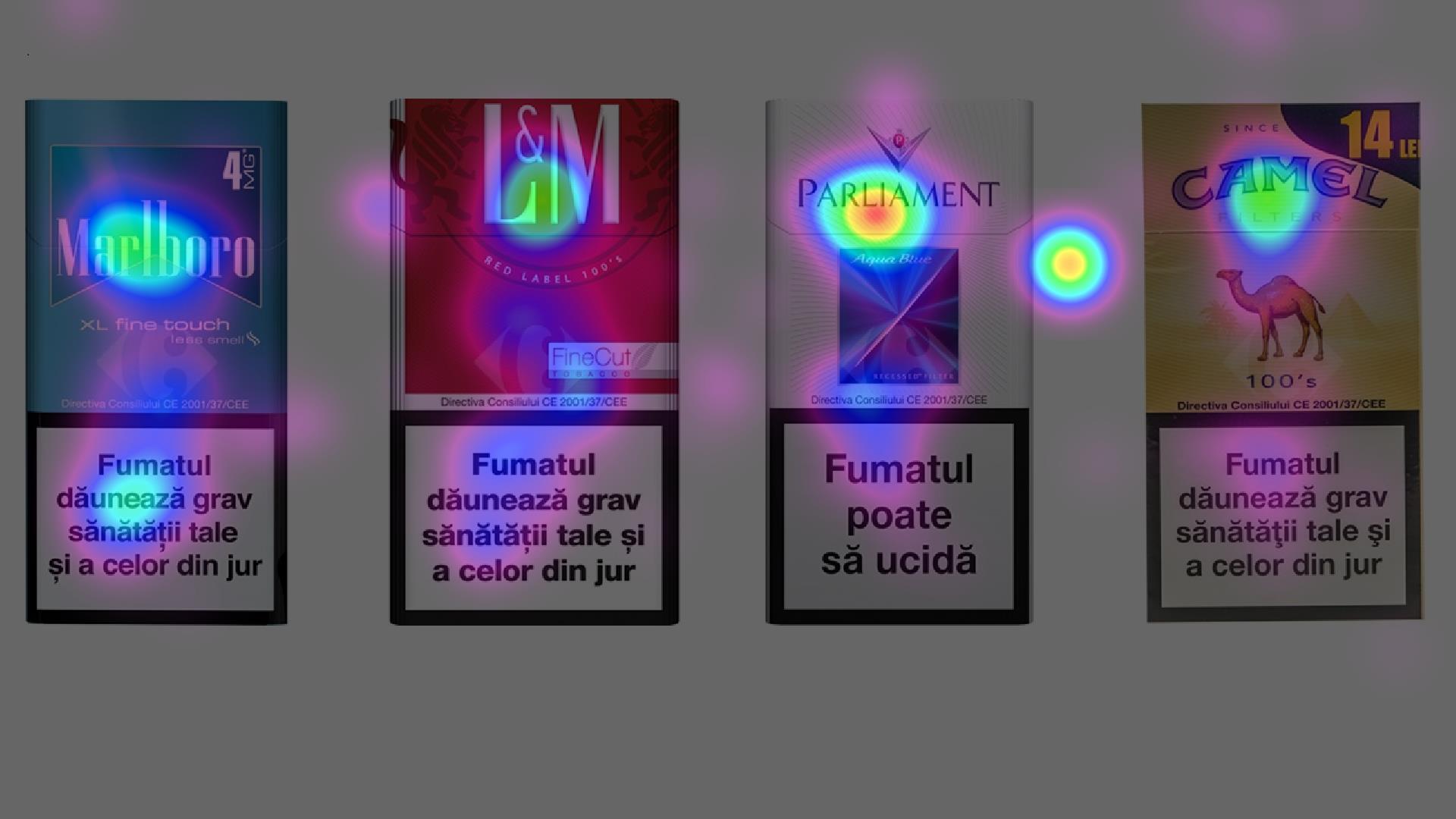 The thermal map showed that the brand, with regard to cigarettes, matters. The participants offered a greater attention to the name such as Parliament, in the hottest area. However, the greatest number of eye fixations went to the cigarettes LM. Is the red color to be the explanation? The lowest dose of attention was for the cigarettes Camel.

Does anti-advertising of cigarettes work?
The most interesting part follows. We were curious how efficient are the anti-smoking messages placed on the cigarette packets. Are they in general noticed by consumers? The answer is – yes. 55% of the participants noticed the messages and even returned to them.