This article is part of a series of materials about the level of young people's interest in being employed in the labor market.
Childhood dreams remain in childhood, and when we get older we choose the occupations that we believe will bring us money. It is interesting to notice how students' tendency has evolved since 1997, when it seems that a significant part of parents decided that a higher education diploma could guarantee their children a comfortable job which wouldn't involve hard labor, trips to Cernauti, Turkey, or other countries with large open markets in order to import goods that could then be marketed in Moldova. That is when the higher education era in the Republic of Moldova started, an era that hit its peak in 2006-2007. The tendency that has stood out in the recent years is a rather curious one; however, it is hard to tell at the moment whether another X-shaped phenomenon will occur or whether there will be a general decrease in the number of students, a decrease caused by the demographic situation.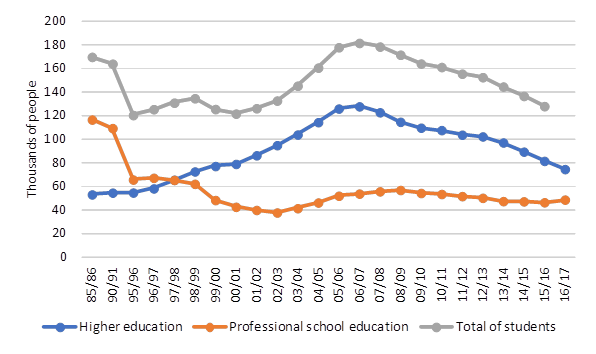 Is Moldova a country with the highest density of experts in Economics per capita?
Most of the 15 thousand university graduates in 2016 got a diploma of higher education in Economics (28%). We are also adding to this number a fifth of the six thousand students who completed Master Degree programs. Education Sciences come in second place of popularity ranking here. The necessity of holding a Master degree in order to work leads to an increased rate of this field's popularity in the case of Master Degree program graduates percentage structure.     
As you probably could expect, Law ranks third in the top three professional fields: 15% of the graduate diplomas and 18 % of the postgraduate diplomas were issued in this field.   
The applied professional study fields have been among the least captivating ones for students for over 10 consecutive years. In the given circumstances, theoretically speaking, in a country where there are so many experts in economics and law fields, at least the economic situation should have already exceeded the expectations, or at least the entrepreneurs should be very much satisfied with the specialists that they hire for jobs in the economic field. According to research conducted by Magenta, entrepreneurs don't generally mention that there are few applicants for jobs such as accountant, economist or specialist in marketing; however, quantity doesn't necessarily guarantee quality, unfortunately.
Higher education graduates in 2016, graduate programs N=15141, postgraduate programs N=6 102 %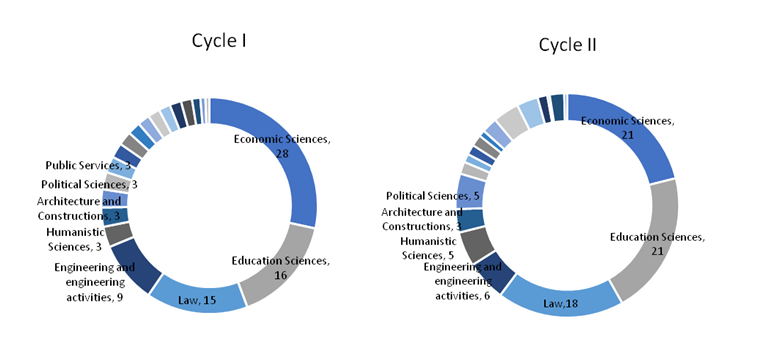 * 643 students got diplomas in medicine field in 2016 
IT college diplomas barely reach into the top five ranking
Speaking of colleges, in 2016, most of the diplomas were issued for specialists in the fields of engineering, construction and processing, followed by the fields of health and social assistance, which are almost the same in number, as well as diplomas in the fields of business administration and law. In forth place among the total of college diplomas come the ones issued in education field, with 9%,  followed by Services and IT, with 8% each. 
College graduates as per field of study in 2016, N=6789, %
After analyzing the structure of professional school graduates percentage, it can be noticed that three quarters of the graduates prioritized the fields of engineering, construction and processing, services field thus coming in second place, with 24% of the issued diplomas (here most of them belong to the fields of hotel and restaurant services and public food industry - 15%).
Professional school graduates as per field of study in 2016, N=3584, %
After analyzing the structure of diplomas percentage and comparing it to the professional fields that the population actually works in, the following question arises: "Is it that Moldova is at the beginning of a dramatic change in its specialization field, or is it that people in this country don't work according to their professional specialization?" How else can country be qualified as agricultural when almost no one from its citizens studies agriculture. What do you think?
On the 17
th

 of October, read on consulting.md our next article about how many young people plan to work according to the profession they studied. 

This study was conducted by Magenta Consulting in partnership with METRO Cash&Carry Moldova and Efes Vitanta Moldova Brewery.

The source of data: all the graphs shown above were prepared by this article's authors on the basis of the data taken from the  National Bureau of Statistics web site.